It is the best ultraviolet care for
energetically-active women.
locana is an innovative and
nature-friendly ultraviolet gel.
You can become one with nature
in a peaceful state of mind without
worries of ultraviolet rays and sunburn.
You also can gently harmonize with nature
as "Wearing a beautiful skin by locana".
It imaginatively depicts a tender love
and harmony of Hawaii.
100% natural essential oil and plant-derived
ingredients are richly formulated.
Texture is carefully selected as a comfortable gel type.
Stress-free by no requirement of cleansing. The product can be used in resort area as a resort-cosmetics brand due to the environment-friendly design.
Rich blend of 29 carefully selected beauty ingredients.
We will be exploring the possibility of sunscreen through a new sensibility or a resort-cosmetics brand.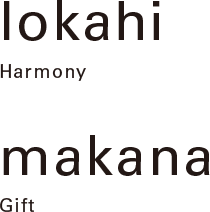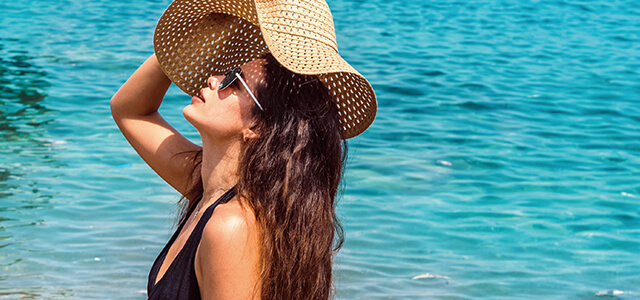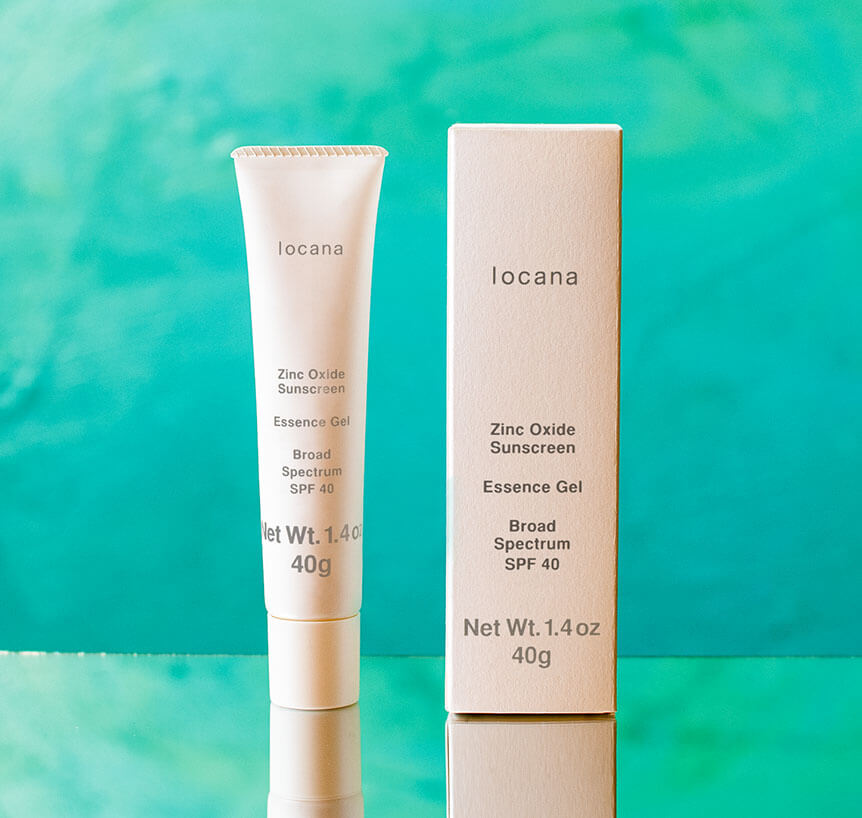 locana combines a sunscreen effect and a beauty effect. It is an unprecedented high-grade sunscreen product for protecting your skin from external stresses such as the sun's ultraviolet rays and dryness as well as maintaining a transparent skin.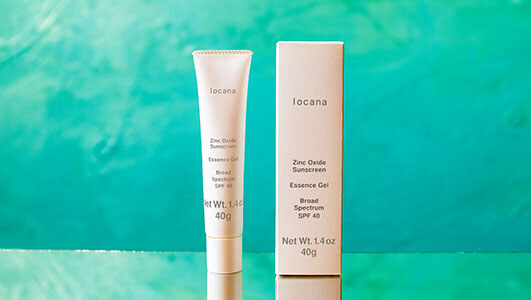 locana UV Protect Essence Gel
SPF30, Broad Spectrum
40 mL 1.3 FL. OZ.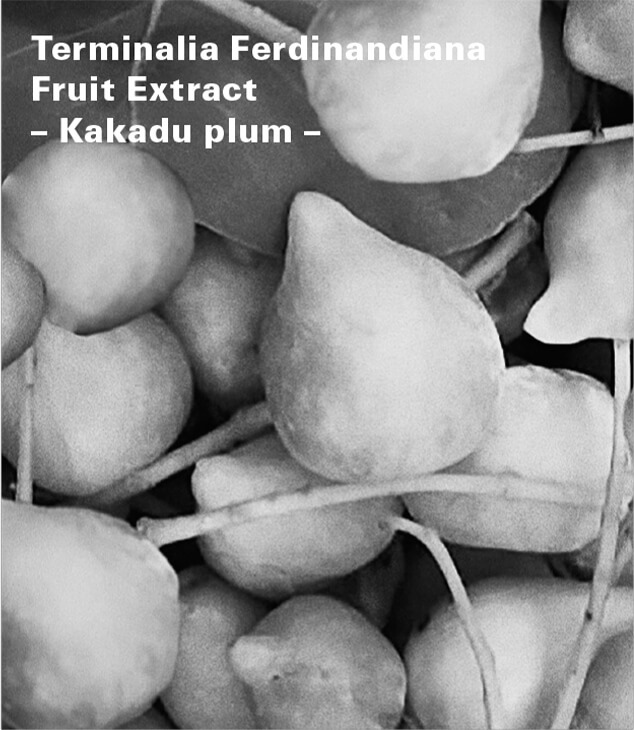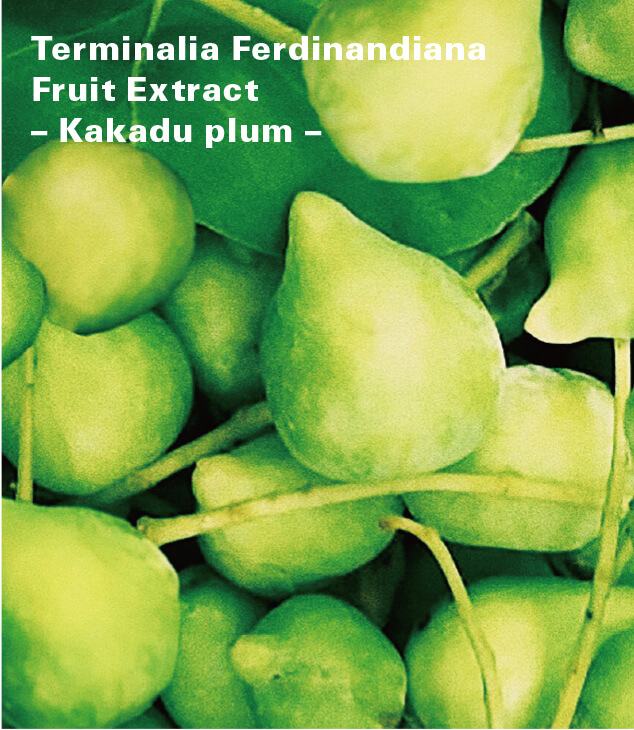 29 ingredients for beautiful /
shiny skin – Specific ingredients –
Tremella Fuciformis Polysaccharide

This is a pure natural plant-derived polysaccharide. It maintains a skin moist by a higher moisturizing effect than hyaluronic acid.

Geranium Robertianum Extract

This is plant extract extracted from whole herb-Robert as good for skin since ancient times.
It cares for damages by ultraviolet rays and dryness. It also provides transparent, shiny, and supple skin.

Rosa Roxburghii Fruit Extract

This is rose extract collected from fruits with rich vitamin C.It cares for damages by ultraviolet rays and conditions fresh and supple skin.
Aleurites Moluccana Seed Oil
– Kukui nut oil –

This is a natural oil that has long been used by Hawaiians for protecting their skin in the harsh environments such as the Hawaiian strong sunlight, heat and sea breeze. It is expected to have a barrier effect against sunburn and dryness.

Terminalia Ferdinandiana Fruit Extract
– Kakadu plum –

The super fruit with the highest vitamin C content in the world. It protects skin from external stimuli (e.g. ultraviolet rays and dryness) by its superior protection during the day. It also improves skin quality uniformly and provides a fresh and shiny skin.
Tremella Fuciformis Polysaccharide, Aleurites Moluccanus Seed Oil, Rosa Roxburghii Fruit Extract, Geranium Robertianum Extract, Terminalia Ferdinandiana Fruit Extract, Symphytum Officinale Leaf Extract, Allantoin, Morinda Citrifolia Fruit Juice, Myrciaria Dubia Fruit Extract, Ascorbyl Glucoside, Niacinamide, Thymus Serpyllum Extract, Hydrolyzed Prunus Domestica, Cynara Scolymus (Artichoke) Leaf Extract, Hibiscus Sabdariffa Flower Extract, Alpinia Speciosa Leaf Extract, Chamomilla Recutita (Matricaria) Flower Extract, Passiflora Edulis Fruit Extract, Plantago Major Seed Extract, Melissa Officinalis Leaf Extract, Glucosyl Hesperidin, Citrus Reticulata (Tangerine) Peel Extract, Glycine Soja (Soybean) Seed Extract, Scutellaria Baicalensis Root Extract, Xanthophylls, Vaccinium Myrtillus Leaf Extract, Cyanocobalamin, Glucosyl Ceramide, Alpha-Glucan
5 efforts for environmental friendliness

Environmentally-friendly design.
"Compliance with the Hawaii State Laws"
"Coral-friendly"
"No use of ultraviolet absorbing agent"
"No use of chemical components as being
harmful to ocean (e.g. Preservatives)"


*

Palau prohibited ingredients


No use of ingredients prohibited by Palau and Hawaii

9 free-items for safe and
reliable product

The product is manufactured on the basis of a skin- and environment-friendly design (using no prohibited ingredients and chemicals).
The product is a stress-free sunscreen with a careful blending by an ideal balance of beauty ingredients and removal of unnecessary ingredients.
The product does not use ultraviolet absorbing agent, paraben, phenoxyethanol, ethanol, synthetic colorant, synthetic perfume, mineral oil, chelating agent, and petroleum surfactant agent.
How to Use
1.

Put an appropriate amount of the product on your palm, then apply it to the skin evenly.

2.

Gently apply the product to the entire skin like giving a massage.Because the product contains beauty ingredients, it protects your skin not only from ultraviolet rays but also from a drying condition during the day. The product gives natural finish as a lively skin with a light pink color. When the pink color cream blends into the skin tone, it is a sign for a sufficient moisturizing effect.

3.

The skin becomes soft and moist like fresh and youthful.Because the product contains beauty essences and moisturizing ingredients, it will provide you a transparent and brighter skin. The product also can be used as makeup base. Even you overlappingly put foundation, the product finishes as a touch of natural, fresh, and beautiful skin without makeup deterioration or too much foundation.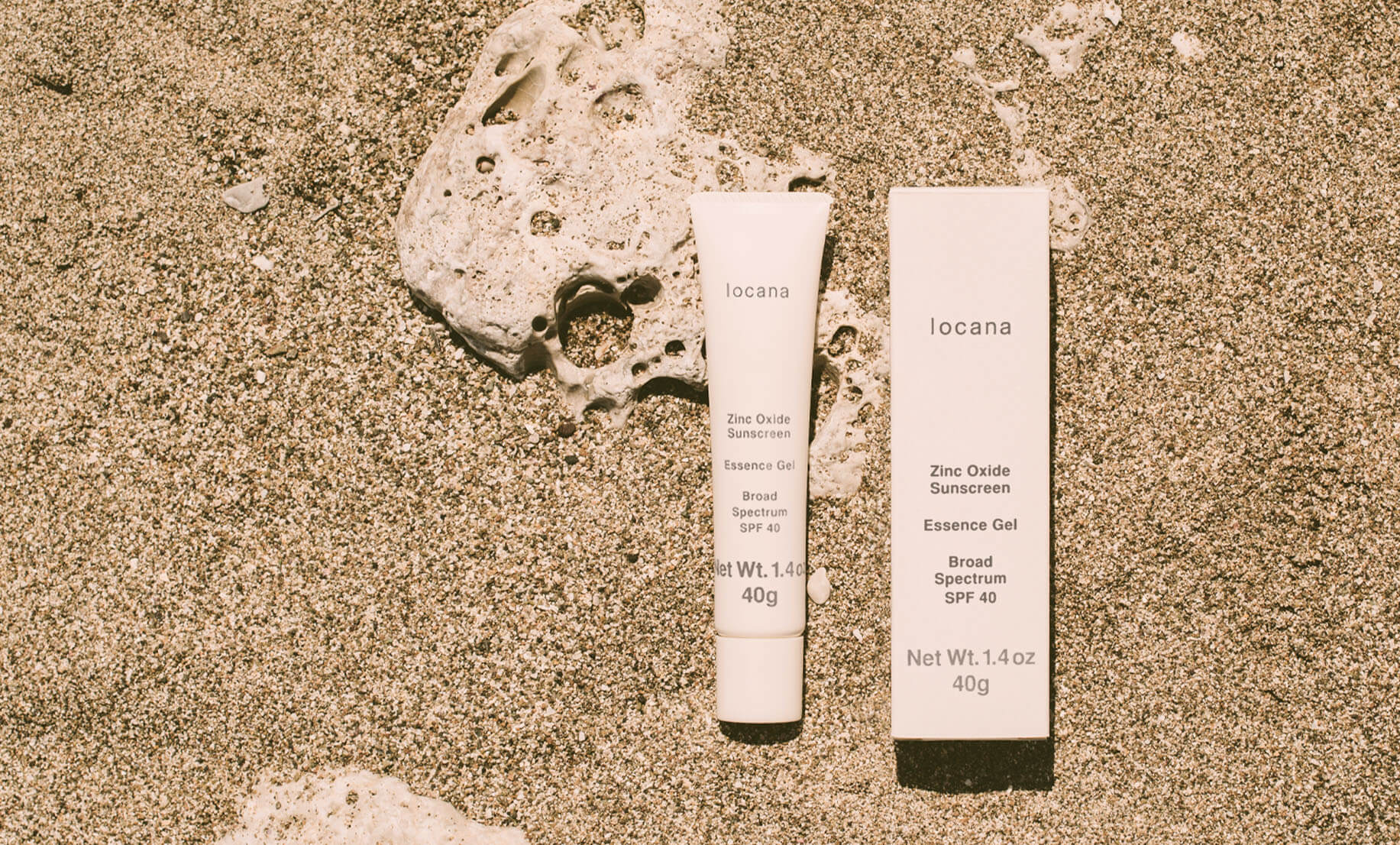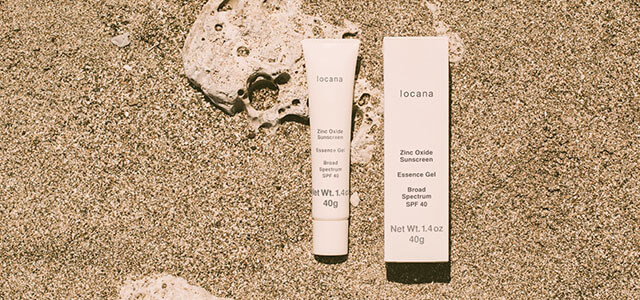 Art Drawing
It is an extremely simple package of minimal design. And the inside 'Drawing' drawn vividly inspires women's heart.

The front design is inspired by an independent woman with a dignified impression. The front design literally expresses the beauty of the woman's surface and skin, and it has been designed with fine color, texture and shape, removing any waste. That is… 'Natural beauty' that is not decorated.
A one-of-a-kind art design drawn by paint artist.

The inner design expresses the inner femininity of all women. Such as… passion, crush, and the feeling of "kawaii". Unique feelings of women are abstractly expressed by the 'Art Drawing'.

Laule'a/ Happiness, Peace.

Hawaiian flowers such as Plumeria and Bird of Paradise, bloom under the shining sun. It is drawn with images of the sun and light that brightens you up. Also, drawn around the yellow light is the green light (Green flash). The Hawaiian legend tells that green light will bring you happiness if you see it.

ʻŌmaʻomaʻo one/Green Sand

It depicts the waves of the sea hitting the green sand of Papakolea beach (Green Sand Beach) and the air clearing away after the squall on beautiful green trees.

Lino/Shining

It depicts the bougainvillea flowers that blooms gorgeously in the green by the sea, after the squall.

Hiwalani/Attractive Person

Sunset beach dyed in pink and bright red hibiscus. And the beautiful coral (coral reef) that gives power to sea and people.

Nalu / Wave

It expresses the clear blue sky and clear blue sea in Hawaii. It depicts the splashes of waves, bubbles, the moon, and the sea that reflects light and shines.

'Anuenue / Rainbow

A 7-colored rainbow that appears in Hawaiian mythology. It's the symbol of rainbow happiness, and it is said that the person who sees it will be the happiest. There is also a jinx that if you see the rainbow when visiting Hawaii, you will be able to come back to Hawaii again. The powerful Hawaiian rainbow that brings you happiness is drawn on the entire surface. This art is drawn with a desire to bring people back to Hawaii.
story


story
We will be exploring the possibility of
sunscreen
through a new sensibility or a
resort-cosmetics brand.
"I was shocked to see the colors of the Hawaiian rainbow and ocean. I was looking for a
sunscreen protecting my skin from the sun and the ocean, but I could not find a
sunscreen I wanted to use. Some sunscreens contain chemical compositions causing
destruction of nature. They are also sticky, glistening, whitening, and excessively strong
smell. Their product package designs are also ugly."
So what would be a beautiful and ocean-friendly sunscreen like?
"Beauty" might be perceived differently depending on a person.
The meaning of "Beauty" proposed by locana is "Cool", "Wit", and "Elegant".
A visual design is to visualize "Hawaiian colors". And nature-friendly ingredients that do not cause destruction of the ocean and human skin.

Go beyond sunscreen.
Resort cosmetics that shines
your skin beautifully.
With makeup base or foundation in ordinary use, it may be hard to thoroughly
enjoy leisure activities for ocean and mountain. I just want to spend time
with "Clean skin" of everyday life. I also want to spend as
little time as possible for makeup. Cosmetics locana will be suited
for resort area as being aware of such time loss and environmental differences.
It is the only and the best sunscreen for all women wishing to shine
beautifully from the inside.